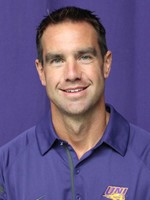 Chris Sagers is a certified USPTA Elite tennis professional with more than 20 years of teaching experience.  He served as the head tennis professional at the Black Hawk Tennis Club from 1999-2011 before taking over as owner in 2011.  He continues to serve as the Director of Tennis at the Black Hawk Tennis Club.  Sagers also served as a head tennis professional at the Wakonda Club in Des Moines from May 1999 to Sept. 1999.  Sagers has coached many top ranked USTA Missouri Valley players and Iowa high school state qualifiers and champions, which have gone on to play collegiate tennis.  Sagers played for the UNI men's tennis team from 1995-99.  He played No. 1 singles and doubles for the Panthers.  Chris Sagers took over at the head women's tennis coach at the University of Northern Iowa in August 2014.  Sagers led the Panthers to a 16-7 dual mark in his first year as the UNI head coach.  UNI's 16 dual wins was the most for the program since the 2010-11 season.  Under Sagers's guidance, UNI senior Erica Medlin was named the 2015 Missouri Valley Conference Player of the Year.  UNI posted an 11-2 home record in Sagers's inaugural year with the Panthers – a stretch that included a 17-match home win streak that carried over from the 2013-14 season.  UNI placed third in the MVC standings with a 5-2 dual mark.  The Panthers knocked off Bradley in the MVC Tournament quarterfinals before falling to Drake in the semis.  In 2018 the Panthers captured runner-up at the Missouri Valley conference tournament.
---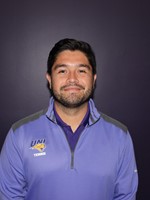 Javier Hervas is a Tennis Pro at the Black Hawk Tennis Club. Javier Hervas, a native of Arica, Chile, was a top-10 ranked junior player in his home country at the age of 15 and number one of his regional zone until the age of 19. He played the Junior South American Tour ( COSAT) until the age of 18 competing with a wide variety of players from all over the world. Some of them, ended up being well known Pro players such as; Hewitt, Nishikori, Gonzalez, Massu, Coria, Chela, Nalbandian among others. After he decided to end his tennis career, he went to physical therapy school and earned a degree in Physical Therapy; licensed in rehabilitation in 2010. His professional experience includes Traumatology, respiratory diseases and respiratory therapy, and Sports traumatology and Performance. Javier earned his master's degree in Kinesiology (Biomechanics emphasis) at UNI in 2014, where he worked closely with athletes at UNI, doing research in sports performance and injury prevention.  2013-2016, he was involved with the UNI women's tennis program as an assistant coach. His thesis project entitled "3D Variability in ball toss and impact location for tennis serves in collegiate female players." was selected among several thesis projects at UNI for a presentation at the Iowa Capitol. His study, which is the first of his kind, sets a precedent in tennis performance research for the UNI Women's tennis program.
---
Tara Sagers is the Director of Junior Development and Marketing and Operations Manager at Black Hawk Tennis Club.  She played tennis at Columbus High School as a four year varsity player.  She played #2 singles and #1 doubles capturing Single-Class 1992 Team State Championship, as well as Single-Class 1993 Doubles State Championship with partner Krissy Rydell.  In 1999, she place 4th at Nationals 4.5 USTA Team Tennis.  Coach Sagers was Head Tennis Coach at Waterloo West High School in 2008.  Coach Sagers joined the Cedar Falls Tiger tennis coaching staff in the 2016-17 season as the assistant coach, where she had taken the lead on player development and building the depth of the team.  Given her experience, Coach Sagers has taken the role of head coach.  Tara has lead the Tigers to the state team tournament every year since taking over as head coach, with two fourth place finishes and a second place finish.  In addition she has coached two doubles teams to state titles in individuals, and a third and fifth place finish in singles.  Sagers is married to Chris Sagers, UNI Women's Tennis Coach and USPTA Elite teaching professional.  Chris and Tara live in Cedar Falls and have two children, Madison a freshman at Grand Canyon University in Arizona and Mackenzie, a ninth grader at Peet Junior High.
My Goal: To inspire and teach YOU to reach your highest potential and reach YOUR goals.
---
---
PRIVATE LESSON PRICING
Chris Sagers: $64.00/Hour
Javier Hervas: $64.00/Hour
Tara Sagers: $64.00/Hour
*Plus tax
**Any cancellations must be done 24 hours prior to scheduled lesson time, and charges will be applied to account due to inconvenience for the tennis professionals, and for the court time that went unused.
---
---