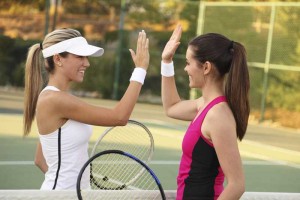 The Black Hawk Tennis Club was started 45 years ago and is still Cedar Valley's best kept secret! In the late 60's and early 70's, a group of local businessmen and professionals decided to support the idea of a place where people could exercise indoors during the cold Iowa winter season. These tennis enthusiasts funded the construction of the original Black Hawk Tennis Club. Ground was broken in 1970 and the club was open in November of 1971. Now, forty-five years later, it is only fitting to remind ourselves that Waterloo did not always have the luxury of indoor tennis.
The tennis facility is situated at 1005 Black Hawk Rd, just east of Ansborough Ave, in Waterloo. This great facility boasts six indoor, climate-controlled courts, six outdoor courts and experienced USPTA and instructors who are ready to help take your game to the next level. From junior tennis programs, to adult leagues and private lessons, the Black Hawk Tennis Club has a program available for you! The Black Hawk Tennis Club is also home of the University of Northern Iowa woman's tennis team and a proud supporter of UNI athletics.
In addition the facility also boasts six outdoor premium sand volleyball courts and hosts league play for all levels May-September.